SORCIÈRE Normal Shampoo N.1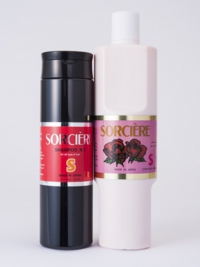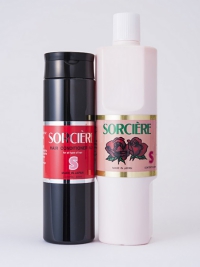 SORCIÈRE Anti-Dandruff Shampoo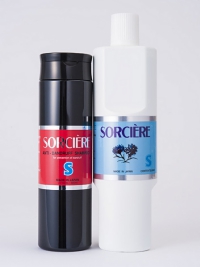 SORCIÈRE Amino Acid Shampoo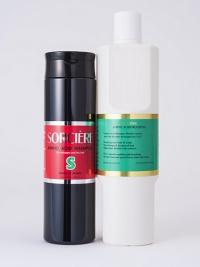 Containing the amino acid type surfactants (Sodium Laureth-4 Carboxylate and TEA-Cocoyl Glutamate), it is a mild shampoo for damaged or dried or limp hair.

The amino acid type surfactants have low stimulation and high biodegradability, it is gentle on the hair, the skin and the environment.

Containing a good balance of soft cleansing ingredients and conditioning ingredients, it gives the hair gloss and suppleness while keeping it soft to the touch and easy to brush.

Containing the superior amino acid type oil ingredient (PCA Glyceryl Oleate), which has excellent emollience and moisturizing properties, it prevents hair from becoming too dry when washed. In addition, this amino acid type oil ingredient repairs damage, so it is recommended for people who have had perms or hair coloring or have otherwise damaged hair.

An ultraviolet ray absorbent (Benzophenone-3) protects hair from such rays.

Active ingrediants:
- Sodium Laureth-4 Carboxylate
- TEA-Cocoyl Glutamate
- PCA Glyceryl Oleate
- Polyquanternium-10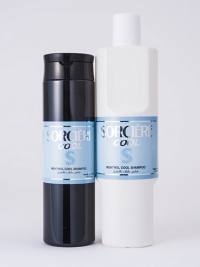 For beginning of thinning hair. Supports the effect of

SORCIÈRE HAIR TREATMENT (hair growing lotion).

Contains 1% Menthol which prevent from inflammation and keeps your hair and scalp clean.

Menthol refreshes and cools your scalp down from heat outside. 

Creamy lather gives your hair moisture and removes contaminants from the hair and scalp and sebum from clogged pores.

Garlic extract enhance blood circulation and antibacterial effect, Dipotassium Glycyrrhizate prevents scalp from inflammation and allergy, and condition scalp.

Contains 5 different plants extracts such as Gingeng, Swertia Japonica, Paeonia Suffruticosa root, Isodonis Japnicus Leaf and Tilia Cordata Flower which works well for hair growth.

Active ingrediants:
- Dipotassium Glycyrrhizate
-Iodized Garlic Extract
- Panax Ginseng Root Extract
- Swertia Japonica Extract
- Paeonia Suffruticosa Root Extract
- Isodonis Japonicus Leaf / Stalk Extract
- Tilia Cordata Flower Extract